Stories and Events
Changemakers
Ending the AIDS epidemic: challenging the stigma in Eastern Europe and Central Asia
Home

>

Overview - An epidemic somewhere is an epidemic everywhere
The RADIAN initiative aims to reduce discrimination and remove the barriers vulnerable populations face when accessing healthcare in one of the few regions in the world where HIV infections continue to rise
Tony, a gender-fluid social worker, knows they have two battles to face if they want to change public attitudes towards HIV and the transgender community in their home country of Georgia. An acutely marginalised group, it was only in March this year (2021) that the first trans person in the country had their gender status legally recognised by the courts.
Tony identifies prejudice and stigma as constant barriers for trans people trying to access healthcare. "Transphobia can jeopardise people's sexual health, or may lead to poor treatment adherence if they already have HIV," says Tony, who is also executive director of the trans advocacy group Temida in Tbilisi. "They may be less likely to get tested and to receive medication."
Raising awareness of these issues is crucial to reducing stigma and improving the health and wellbeing of trans people and other communities most affected by HIV. Tony is one of a diverse group of HIV community leaders from across Eastern Europe and Central Asia (EECA) who are telling their stories as part of RADIAN Changemakers, an effort to raise awareness of HIV in the region and the devastating effects of stigma around the virus.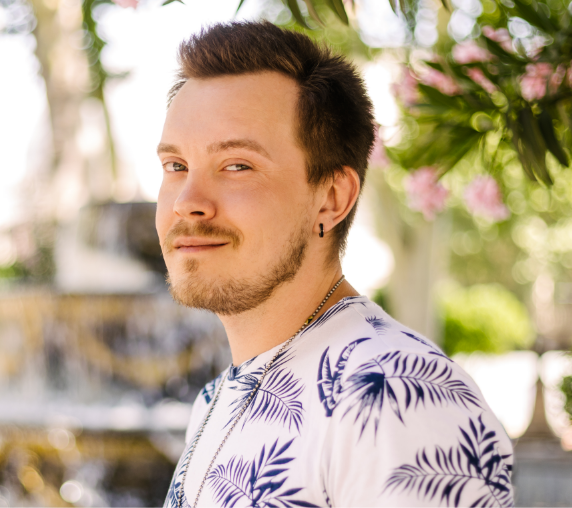 Transphobia can jeopardise people's sexual health, or may lead to poor treatment adherence
Both AIDS-related deaths and new HIV infections have continued to rise in EECA despite numbers falling in other global regions. According to the Joint United Nations Programme on HIV/AIDS (UNAIDS), EECA is "failing to control its HIV epidemic". The annual number of new HIV infections increased by 43% between 2010 and 2020, making EECA "the fastest growing HIV epidemic in the world" and one of two regions in the world where new HIV infections rose in that period. In the Middle East and North Africa, new infections increased by 7%.
RADIAN is a groundbreaking partnership between the Elton John AIDS Foundation and pharmaceutical company Gilead Sciences, which aims to help reduce HIV infections and to end HIV as a public health threat by 2030 in EECA.
According to UNAIDS, deaths from AIDS-related illnesses have risen by 32% in the past 10 years and now account for nearly 100 deaths a day in EECA. More than 380 people are newly diagnosed with HIV every day, adding to the 1.6 million people already estimated to be living with the virus in the region.
The RADIAN partnership has two arms. The Unmet Need fund supports individual grassroots organisations devoted to HIV prevention and care, while its Model Cities programme provides significant funding to improve access to lifesaving HIV services in key EECA cities and regions to reduce new HIV infections and AIDS-related deaths, as examples for other cities and regions in EECA seeking to end their own HIV epidemic. Almaty in Kazakhstan is RADIAN's first Model City.
Community Friends is the primary organisation addressing HIV among Almaty's LGBTQ+ community, and one of the first organisations to receive support from RADIAN. Founded by Svyatoslav Suslov, it works directly with the city's trans community and men who have sex with men (MSM). "It's sad to see that while on average the whole world is recording a downward curve in new [HIV] cases, here we have an increase in infections," says Suslov.
However, the work of Community Friends is already having an impact. It provides practical support including HIV tests, access to prevention programmes and peer support groups for MSM and trans people. But crucially it is also helping to reduce the stigma associated with HIV.
Suslov says: "There are more people who have begun to talk openly about the fact that they have been living with HIV for many years."
In another part of the city, Lyubov, who was diagnosed with HIV 17 years ago, advocates for the rights of people living with HIV. Her organisation, supported by RADIAN, runs HIV awareness training for healthcare staff to help reduce the stigma and discrimination associated with a positive diagnosis. Lyubov says her work has taught her to be more compassionate towards those who discriminate against people with HIV. "You can't just force change on people," she says. "We need to understand the people discriminating are human beings, and that they need help to understand that HIV is not scary. This experience stays in my memory as it changed how I work."
Approximately 1,500 miles away in Yekaterinburg in Russia, Vera knows first-hand what it really means to live with HIV. Diagnosed 20 years ago, she knew she had to take action when she realised that increasing numbers of her friends and family were dying from the virus. "I felt I had no choice," she says. "I realised that I was already deeply affected by the disaster, so I had to do something about it."
Vera's organisation has recently celebrated its 10-year anniversary as a registered charity, after starting as a local peer support group and patient information centre for people living with or at risk of HIV – including sex workers, prisoners and people who use drugs.
Today, with help from RADIAN, the organisation is helping to save lives and providing support for grassroots organisations. Working in harmony with the government-backed local AIDS centre, it is connecting people who are receiving HIV treatment to lifesaving care. By providing individual and group counselling, organising outreach events and HIV prevention exhibitions, the organisation is leading efforts to address HIV and AIDS across the Sverdlovsk region.
RADIAN hopes that by amplifying the voices of community leaders it can draw greater attention to the continuing HIV epidemic in the EECA region.
Anne Aslett, chief executive officer of the Elton John AIDS Foundation, says: "Local innovations are key to tackling the unique issues of the AIDS epidemic in eastern Europe and central Asia. We are excited to shine a light on the remarkable work of local experts supported through our RADIAN partnership and the vital role they play in the HIV response."
Alex Kalomparis, vice-president of international public affairs at Gilead Sciences, echoes her praise, heralding the changemakers as "the people who are leaders in ending this epidemic".
This article was originally published on theguardian.com as part of the RADIAN and Guardian Labs Changemakers campaign